My diary
Here you will find the places and dates of the events to which I participate, either as a participant, as a speaker or as an exhibitor.
The
most
recent
ones
are
at
the
top
,
the
oldest
at
the
bottom
of
the
page
.
.
.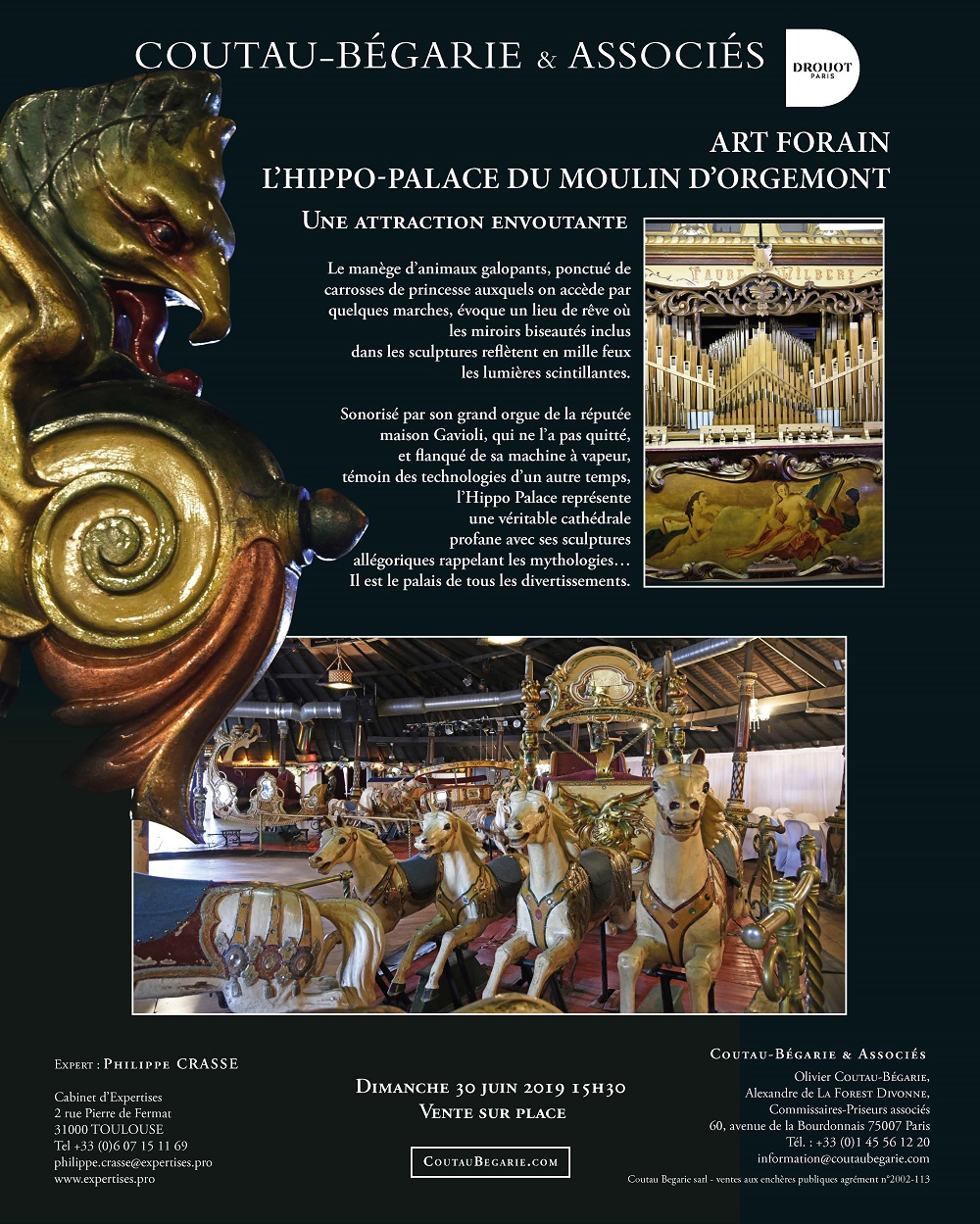 AUCTION - SVV COUTAU-BEGARIE & Ass.
Moulin d'Orgemont - 2 rue du Clos des Moines - 95100 Argenteuil, on 2019, 30th of June
Princess carriages and legendary horses, 89 keys Gavioli fairground organ and steam powered traction machine from Hippo-Palace for sale.
Table d'Expert
ART de VIVRE à la FRANCAISE 2019
French Embassy in Moscow, 45 Bolchaya Yakimanka - from 28th to 31th of May 2019.
French Heritage workshops present luxurious culture and know-how in th fields of creation and restoration.
This email address is being protected from spambots. You need JavaScript enabled to view it.
AUTOMATACON 2018
Morristown (New Jersey) U.S.A. du 18 au 20 Mai 2018.
Convention des collectioneurs et amateurs d'automates et d'art Cinétique.
Conférencier "Automata as objects of power".
VENTE aux ENCHERES ADER- NORDMANN SVV.
Hotel Drouot - Salle 1 le 4 mai 2018.
Vente d'un cartel à timbres en vue de la Maison Troll & Fils.
Table d'expert.
VENTE aux ENCHERES PHILOCALE - Me Semont
Hotel des Ventes d'Orléans - le 28 Avril 2018.
Vente d'un orgue de Mirecourt et d'un cible foraine.
Table d'expert.
5e RENCONTRE PARLEMENTAIRE des ENTREPRISES du PATRIMOINE VIVANT
Palais Bourbon, salle Colbert - le 12 avril.
Elle réunira Députés, Sénateurs et dirigeants d'entreprises labellisées.
participant.
SALON du LIVRE d'ART & de l'OBJET RARE
Grand-Palais à Paris du 12 au 15 Avril 2018.
Conférencier "Les Automates, objets de pouvoir" Vendredi 13 avril à 18h.
SALON du PATRIMOINE 2017
Carrousel du Louvre à Paris - du 2 au 5 Novembre 2018.
exposant stand D19.
Conférencier "La Technique au service de l'art".