Music box with bells in-sight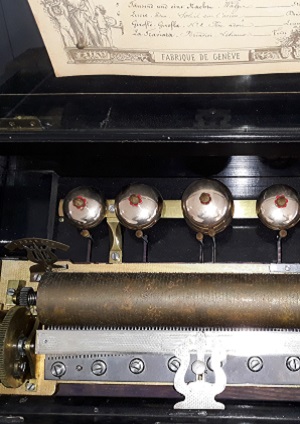 Music box with bells in-sight
TROLL & Fils, Fabrique de Genève - Circa 1880
This music Box No. 5457 plays eight airs, on a keyboard of 85 teeth. A subsidiary keyboard of 6 teeth for 6 bells is juxtaposed.

The classical melodies of the repertoire make it possible to date the piece according to 1877, the most recent work performed: Les Cloches of Corneville de Planquette.
The tunes are indexed by an air indicator, to the left of the cylinder.
Domed lid with a pattern of marquetry representing a bird and a dragonfly.
Presence of a zither, accessory for changing the sound; The sound of vibrating teeth which vibration is attenuated then sound like a guitar.
Lithographed original tunes-list, handwritten titles.
The whole is in a state of play but deserves a cleaning to appreciate all the nuances. One tooth end is missing.
Size : L : 58 cm – l : 29 cm – H 26 cm - Cylinder : 33 cm.
Estimate 1200/1500 euros SOLD 1690 €