Glass-Chord or Pianoforte a Cristallo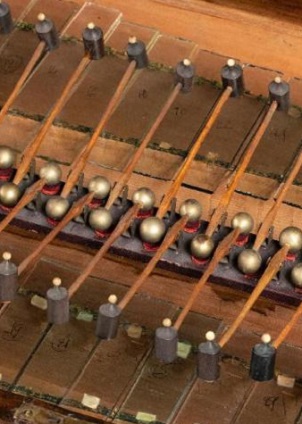 In a mahogany veneered case, this musical instrument lamellophone type, plays 49 notes and is named according to the country: pianoforte a cristallo, Glass-chord, Glass-Cord or Glassicord.
The original mechanism is functional, with keyboard foldaway and reversible hammers for change of tone. In an instant, the instrumentalist or his assistant, can switch around the mode of percussion and pass from a clear knock to a softer touch, corresponding to the naming seraphs' organ…
The sound part (made of glass bars) partially of origin was completed after breakings by coherent replacements.
This instrument can be considered as an evolution of Beyer's instruments, presented in 1785 to the French royal academy of sciences.

Estimate 35000/45000 €

This email address is being protected from spambots. You need JavaScript enabled to view it.