"Jean qui Pleure" - schoolboy in punishment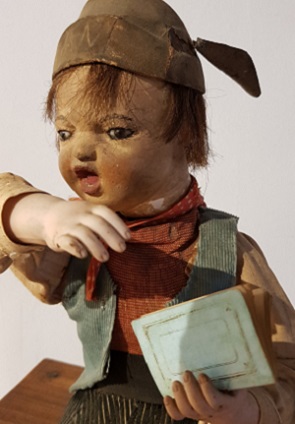 "Jean qui pleure" - automaton from Gustave Vichy, circa 1880
Jean, schoolboy during the third French republic, prefers to play hooky. As a bad pupil, he thus supports the consequences, learns the missed lessons sat on a bench, put on by the dunce's cap.
Character head in composition; hands in china; five movements: rotation and shaking of the head, raises the arm and tosses the leg, the ears of his hat recover. A wicker basket with his name, put next to him, contains its snack.
Perfect and original clothes; mechanism and music (two airs) in perfect playing condition.

Estimate 7000/8000 €

This email address is being protected from spambots. You need JavaScript enabled to view it.